Love INC Mission: mobilize local churches to transform lives and communities in the Name of Christ
JOB OPENING:
Position: Help Center Coordinator (HCC)
Reports to: Executive Director
Purpose: Manage Help Center operations to recruit, screen, train and retain member church volunteers who work in the Help Center and serve as resource navigators.
Expectations: Salaried position, 25 hours per week: M-F, 9:00 AM – 2:00 PM typically.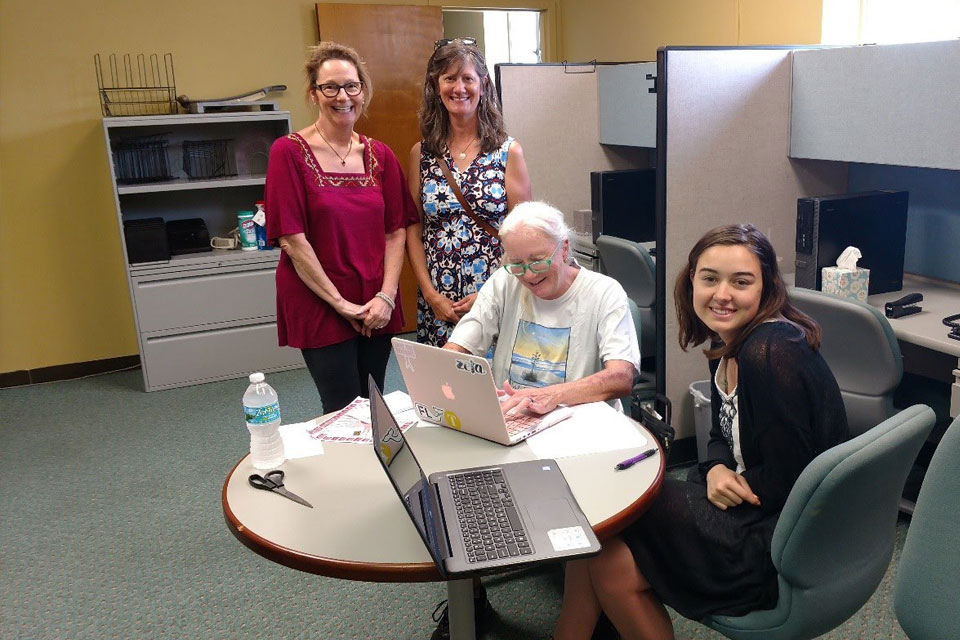 Love INC; since 2017, 15 member churches responding differently to Matthew 22:39 love thy neighbor.
Have you witnessed a life transformed? Imagine an opportunity of being entrusted with precious lives, living on the margins of Tampa, surviving in chaos, but, motivated to change, and linking them with transformational resources, and journeying with them to shalom, lives lived as God intended…Love INC does just that.
Today, and every day, our active website and busy Help Center phones, generate dozens of daily requests for help, including partial utility / rent assistance, car repairs, resource referrals for newly homeless and more.
Our versatile, HCC, wearing multiple hats, manages this linking resources with verified needs activity, directing member church trained volunteers to vet and respond to legitimate guest requests. Love INC staff guides the transformational processes.
Our vibrant Help Center is the hub, core of our ministry and the source of our services to our vetted guests.
Working at our downtown Tampa Portico office, the Help Center Coordinator prayerfully directs their team to prayerfully discern and respond with wisdom who and how to help transform lives demonstrating God's love.
Responsibilities: work collectively with our Executive Director and member Church Ministry Coordinators to help recruit, train, and coordinate member church Help Center Volunteers and Resource Navigators.
Help Center Intake volunteers are the critical front end of the Love INC process by: scheduling and conducting interviews with guests seeking assistance; including:
listening to guest's stories and allowing guests to determine if they are a fit for our services.
ensuring thorough and respectful vetting of guests' stories.
presenting information gathered to Help Center Coordinator who prayerfully discerns a mission fit and availability of resources.
ensuring dignified outcomes, client confidentiality and conduct follow-up calls to clients.
HCC also guides Resource Navigators who are equally important as they are assigned to and form a long-term relationship with our guests. The HCC works with them to match their skill sets with guests and develop an individual action plan to achieve the guests' goals.
With the Executive Director, the HCC:
ensures all volunteers receive initial and on-going training for encouragement and skill development.
facilitates appropriate placing and matching all volunteers to respective tasks.
verifies sufficient Intake Volunteer coverage is available during all Help Center hours, special events and volunteer work days.
guides the vetting processes for who and how to help transform lives demonstrating God's love.
"connects the dots" – links verified community resources with verified guest needs.
promotes on-going support and communication are critical for the Resource Navigators who are journeying in relationship with our guests and helping them learn to address their long-term challenges.
coordinates volunteer recognition, two volunteer events annually, and collecting and reporting all volunteer hours. Finally,
measures volunteer satisfaction with appropriate volunteer opportunities that retains volunteers.
Personal relationship with Jesus Christ and agreement with the Apostles' Creed.
Have a heart and passion for the Love INC mission and core values.
Detail oriented, self-directed, strategic, multitasker, global.
Discernment, strength-based, non-judgmental attitude to listen, empathize, and accept others.
Knowledge of Tampa community and resources.
Experience in group training/facilitation and volunteer management.
Attracts, enrolls, nurtures and recognizes cohesive volunteer teams.
Good telephone and communication skills.
Do you want to know more about our thriving ministry of love, with accountability? Transformational help beyond the food and clothing commands of Mathew 25? Love INC is what the mobilized church looks like!